Testimonials
Testimonials

Peer Johnson

"My husband and I were married last month at a private estate in Big Sur. We initially decided to go with Peer Johnson because of his photography aesthetic and his price point. For the quality, his wedding day package was one of the lowest we had found and on top of it, he offered unlimited shoot time on the day of the wedding. We felt 100% comfortable having him be apart of our big day. Not only did he help us get through the nitty gritty of wedding photos in a quick and efficient manner (i.e. endless family portraits), but helped create a calm and exciting atmosphere prior to the ceremony during our individual photo sessions as well as while we were getting ready.
He seemed to blend in seamlessly to our group of guests and never stuck out throughout the night as he captured our favorite moments. Because he had worked with some of our vendors at our venue before, it was so helpful that he was able to direct us with ease, especially since our entire timeline was running late due to a late shuttle bus full of guests. Once we received our photos, which came so much quicker than we expected, we were thrilled to see how he was able to capture the energy of the group and not to mention the exquisite lighting and scenery of Big Sur's coastline. All in all, we feel that he was able to capture who we are and what we wanted to show our friends and family on our wedding day. Because we chose not to have a videographer, the photographer was an extremely important decision and we feel that we can now relive that day and the love that encircled us forever with these photos. Thank you Peer! "

Mia & Dylan

"Peer was AMAZING! We had a fantastic experience, and cannot say enough great things about his talent and professionalism. He was very prompt with all of his communications, sent us a schedule of photographs he planned to take, attended our wedding rehearsal so the wedding party knew where to be so we could get the best photographs of our ceremony. He also went to multiple locations the day of our wedding to capture the entire wedding day! He definitely went above and beyond to captured all of the great moments of our wedding day to give us memories that will last us a lifetime. Working with Peer was great, we were able to view our photos the day we got back from our honeymoon (2 weeks after the wedding), and they were AMAZING! I highly recommend Peer as a wedding/engagement photographer. (Peer also shot our engagement pictures, and they were fabulous as well) "
Kristen & Tom

"Peer's photography is beautiful! We absolutely love our wedding photos, and he managed to capture some really beautiful moments between my husband and I. Peer was also such a pleasure to work with in planning the schedule for the wedding and on the big day itself. He was so much more flexible and accommodating than the other photographers I looked at. Unlike most of the wedding photographers in the area, Peer did not put a time limit on the day and he made himself available when it made most sense for our schedule. When we asked him to start a bit earlier to make sure he could spend some time with both the bride and groom getting ready, he was willing to do so without a problem. He also came and photographed our welcome party the evening before the wedding for a few hours, and we are so happy we have some professional shots of that evening. Throughout the day of the wedding, Peer kept us on-track with timing and made everybody feel comfortable and relaxed. We are so thrilled with the photos we have to remember our special day. "
Heather & Raj

"Peer gave us great direction before, during, and after the ceremony, and the photos are amazing as a result. Not only were his photographs beautifully genuine (as you can tell if you look at the portfolio on his website), but he also encouraged us to do things that made our wedding more magical and made our guests enjoy it more. Thank you Peer for your wonderful work -- we really appreciated how much effort you brought to our wedding and think you deserve all the awards you've received on The Knot! "
Kelsey & Dan

"Hiring wedding pros can be an intimidating task because you've probably never met them before and you want everything about your wedding to be perfect. So trust me on this: do yourself a favor and hire Peer Johnson to take your wedding and engagement photos! Peer is not only a pleasure to deal with, his work is absolutely top notch. Peer made the entire process feel very comfortable for us and he really knows what he's doing with a camera - I was amazed by how well our photos turned out! Another bonus that Peer's pricing is very competitive for the market and he won't "watch the clock" to try and get extra money from you (even though he is absolutely worth it!). I really can't say enough good things about Peer. Hiring him was the best decision we made. "
David & Jeffrey

"Peer is one of the nicest, easiest going people I have met. My wedding day was one busy blur, but the one constant was Peer who seemed to be everywhere at once! He exceeded my expectations and then some, and his pictures speak for themselves. Every spot he picked had perfect lighting and were exceptionally stunning, and others spots that I wanted that seemed like an impossibility due to poor light, etc. came out beautifully. I had several wedding party comment on how laid back and great he was to work with, and he really was. My husband and the groomsmen loved him! He worked the whole day nonstop, and tried very hard to capture the shots that I had in my head, and every shot he took came out better than I imagined. I had so many I couldn't chose. He is very affordable for the quality photographs he produces; which was honestly one of my biggest reliefs in the wedding planning process given how exceptional photographers seemed to be so far out of my budget! My friend paid twice as much for her photographer, and I dare say my photos might just be slightly better;) And if the wedding wasn't enough, he went out of his way afterwords to make sure my favorite photographs were just perfect for me! Overall, he was awesome. If Peer does your wedding, you can check photographer off your list and not worry at all about your photos being beautiful:)"
Kelly & Matt

"We love Peer! Peer is such an amazing photographer. The images he captures and quality are outstanding. He is very professional and hardworking. We loved that he came to our rehearsal to introduce himself to our family and bridal party and give us input for the ceremony. I would recommend Peer to anyone!"
Kelley & Drew

"Peer Johnson was our wedding photographer this past September in Big Sur, and we were beyond pleased with the photos he took, and also loved his professionalism and awesome vibe. We felt very comfortable with Peer during our more intimate moments—it was as if he wasn't there. Peer also was great dealing with unexpected circumstances: RAIN in Big Sur in September! He kept on schedule and got three times the amount of photos I was hoping for. It was difficult to weed through all the good ones to get down to a manageable number for our wedding album! A number of our guests commented on how great our photographer was, and now that they are seeing photos they are all super impressed with Peer's work. Peer's rates are also very reasonable and we really appreciated that. If you have the chance to book Peer, book him before he's unavailable and don't look back!"
Allison & Patrick

"Peer was INCREDIBLE to work with. Very professional and down to earth. He made my husband and I feel so comfortable right away and we really can't thank him enough! Him and his wife, Rhonda, both helped us out tremendously through out our day and made everything so perfect for us. BTW, Rhonda is THE BEST makeup and hair artist in California, if you ask me. Do yourself a favor and book him now!!! He's worth every penny and more- you will not be disappointed. Thank you so much Peer and Rhonda - we love you."
Melissa & Jake

"Greg and I were fortunate enough to be able to have Peer photograph our wedding at Thacher winery, in Paso Robles a few weeks ago. Peer was very professional and made our kids as well as our guests have a great time!! Peer does beautiful work and definitely met our expectations when it came to following our time line & what & who we wanted photographed on our wedding day. The quality of his work shows & we loved our wedding photos!! They are beautiful & amazing!!! Whenever we look at our wedding pics. we smile and we are so thankful we had Peer make our day one to remember. Greg & I would highly recommend Peer as your wedding photographer!!! Thank you again Peer &amp looking forward to seeing you again out at Thacher next year!!!"
Kim & Greg

"Peer was awesome to work with, he made everything stress-free for us. He was really organized and took his job seriously by showing up during our rehearsal to check out the venue ahead of time and find good photo spots and lighting for the wedding day. He was able to make us feel comfortable & natural during the photo shoots & mostly let us do our thing. Best of all, he was able to capture all the little moments throughout the day that we will remember forever. We received the photos not long after the wedding and they turned out fantastic! Our family and friends also loved them. We got everything we expected at a reasonable price com- pared to other photographers. We definitely recommend Peer if you want memorable pictures while working with someone easygoing but still professional. I also have to recommend his wife, Rhonda, for makeup and hair. She is amazing! They are an incredible duo."
Erica & Steven

"Outstanding!!! Absolutey loved Peer and my photos! He was a machine that day! I interviewed at least 10 photographers before choosing Peer and I think we made a great choice! He was one of the few who was willing to hear what we wanted and not just throw down the "I'm an artist" line. We will be back to Peer for future family milestones for sure! On a side note, if you are looking for someone to do hair and makeup, his wife Rhonda Johnson was equally as incredible and they made quite a team! Either way, I knew right off the bat that the pictures were a top priority and Peer delivered well above my expectations. Don't waste your time and energy, just book him!"
Joanna & Jon

"I can't describe how amazing our experience with Peer was. He is an absolutely incredible photographer - our pictures are better than I could have imagined. Every person who has seen my pictures have commented on the amazing photography! On top of the photographs, he has a great personality and was an absolute pleasure to work with. We actually had a lot of fun taking the pictures, largely due to Peerís style and personality. I corresponded with him several times by phone and email, and he was always very responsive. To top it off, he provided the pictures both online and on a dvd. I wish I could give him more than 5 stars!"
Kelly & Adam

"We cannot say enough great things about Peer. He was a god-send and our experience with him was absolutely amazing! He was so professional yet down to earth, very easy to get along with it... he made everything so easy. And our pictures were incredible...they totally exceeded our expectations (which are quite high)...ABSOLUTELY AMAZING. We love all of them and continue to look back at them periodically and each time continue to be impressed with the quality of the pics. We couldnít have asked for more. And we were also fortunate to have incidentally booked his wife (which to our surprise he never mentioned), Rhonda, a professional make-up artist who did a spectacular job with my make-up. She was so sweet and charming and really listened to what I wanted. After she was done, I was so happy with the result...it was exactly what I had hoped for and more. My husband was blown away and I will always cherish my pictures thanks to her amazing work!"
Patrycya & Dave

"We are so very pleased with the photos Peer took at our small Central Coast wedding. When we were looking for a wedding photographer, cost was a big concern. We looked at Peerís website and discovered the perfect match for us...affordable pricing and wonderful photography. Our photos are unbelievably beautiful. We had high expectations after viewing his portfolio, but our photos turned out even better than we had expected. We would highly recommend Peer to anyone!"
Victoria & Briyon

"Peer was an irreplaceable asset at out wedding. Not only did he capture all our most precious moments, but he also helped us to plan the wedding! With his extensive knowledge on the best places to stay, eat, take photos, ceremony sites and reception venues, bakeries and videographersÖPeer made it so easy for us to have the wedding of our dreams! Our wedding was an all day affair, and Peer was diligently and tirelessly working the whole time; arriving at the house early in the morning, through to the dancing late at night. He took our multiple last minute changes in stride, and was completely open to do whatever we asked of him. He had wonderful ideas for our photographs, and he took on our ideas with great excitement and energy too! Through all the different lights of the day, and all the different locations we went to, Peer took the most beautiful photos that not only captured the moments, but the character of the whole day. He has provided us with the best memories of the best day! He was an absolute pleasure to have at our wedding, not only as a photographer, but now as our friend as well! Plainly put, if you want someone who feels more like family or a close friend that you have known for 20 years taking the best photos for you; helping your most special day run smoothly, capturing every beautiful nuance of your wedding, and bending over backwards to get you the photos that you always dreamed of, Peer is the man for you!"
Michelle & Chris

"Peer Johnson is clearly more than a "wedding photographer". We were in complete awe of his talent and extremely grateful for his enthusiasm and commitment. The pictures are amazing-we literally LOVE them all! We so appreciate the (apparent) ease with which he captured our vision every step of the way. He is a true artist with an inspired eye. Not to mention, a cosummate professional, and yet he made us feel extremely comfortable and relaxed. By the end of the day, our family practically wanted to adopt him. We are forever indebted to him and his incredible gift. We are confident that NO ONE else could have captured our day better than him."
Brittany & Mike

"The mark of a good photographer is when, no matter how much time has passed, you relive the moment and experience the same emotions you felt at that point in time, simply by looking at a photograph. Two months have passed since Peer photographed our intimate outdoor wedding, and his method was so unforced and organic that it truly captured the essence of the event. Peer was self-directed, yet accommodating. We are amazed at how adeptly he captured so many candid, personal moments and gestures on film - we are forever grateful to have these treasures.
The greatest compliment we can give an event photographer is that he was virtually invisible; totally unseen, Peer created an emotional photojournalistic album from the periphery. As pleasant as a person could be, he was also a joy to interact with, and made the few minutes of obligatory portrait sessions very comfortable, easy and fun. We can not recommend his services strongly enough."
Lisa & Jonathan

"As an Art Director at a publishing firm I work with professional photographers all the time, so I know something about what it takes to do this well. Peer was amazing: he was professional, creative, understanding, listened to what we wanted and made our wedding relaxed and stress free! His photos are amazing, we think he was several places at the same time and was virtually invisible during the ceremony (which we appreciated). We are amazed at how he captured not only the images but the emotions and "feel" of our day! I was nervous about having my picture taken (usually I am on the other side of the camera!) but Peer made me feel happy, relaxed and beautiful. He captured moments from our day that we and our families and friends will treasure for a lifetime. We can not say enough good things about his service, the pictures on CD were delivered early to us, and the Pictage site will be great for sharing photos. Choosing a photographer was the hardest part of planning this event for me, and Peer surpassed every expectation. I would recommend him without reservation!"
Lori & John

"Peer is an incredible photographer. I work in photography as well, so my primary and overarching concern for my wedding was to have an experienced photographer and quality images. Not only did Peer meet this expectation, he exceeded it. In communicating prior to the event, he responded quickly and efficiently; since we were not from California he was helpful in many aspects of our wedding planning. He was markedly friendly and incredibly easy to work with; he was flexible to the point of meeting our last-minute ceremony location and time change. The color, exposure, focus, and framing of all photos were faultless. I could not have asked for a finer photographer or more perfect experience. For the price you will be HARD pressed to find better."
Mallory & Alec

"From day one of contact with Peer, his responses were quick, any questions asked were answered clear and timely. Before the wedding and before I had even called him about timeline of the day, he had already scouted the locations, outdoor lighting for the best shot and the extra location in which we did our couple photos. During the ceremony and the reception he got shot after shot, yet his presence was not even known. I didnít feel ever like the photography was taking over the day. He was perfect at his timing and certain moments that I enjoyed viewing after the wedding. If you want a photographer that takes the time to know what you like, but also knows what is best for the shot, Peer is the man for you. We also had so much fun while our photo shoot was happening that our day continued with perfection."
Katie & Rocky

"Peer was PERFECT! I cannot tell you how wonderful he was on the big day! He showed up early which was super helpful and wonderful! He had visited the Holly Farm previously to get an idea of where to take pictures and see the layout of the grounds. Peer was dressed nicely in black and seemed to blend into everything seamlessly! We hardly knew he was there sometimes! My husband even commented that he was not aware that Peer was taking pictures at certain points and was pleasantly surprised to see shots of the festivities from different angles and viewpoints. He was also very courteous and helpful to not only my bridal party but to my guests as well! He took charge of the photography sessions and made me feel very unstressed and confident that I had put this job in his hands. It was a huge relief off my shoulders. It allowed me to further enjoy my special day with my friends and family. I would suggest him to anyone and everyone! I already have started to do so in-fact! I was so pleased by the whole experience and my guests even commented on how wonderful he was, I cannot help but suggest him as the PERFECT photographer to anyone needing a photographer for that special occasion! I would hire him again in a heartbeat!"
Dani & James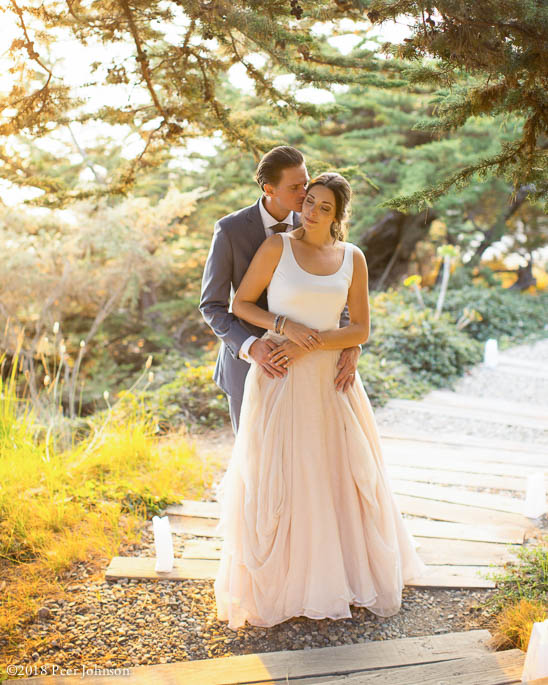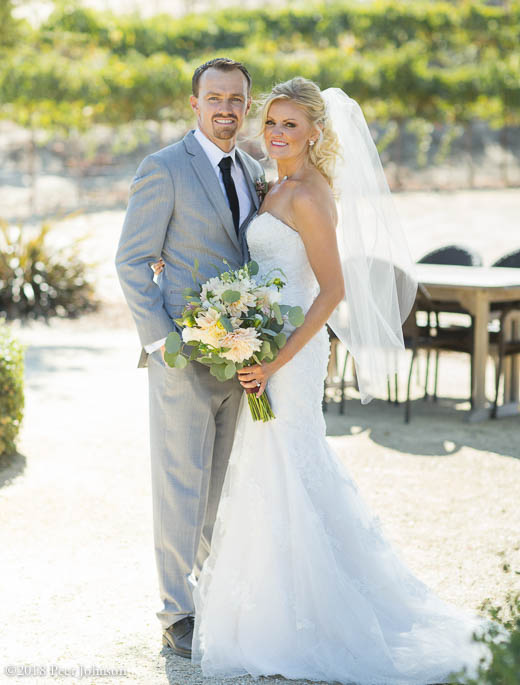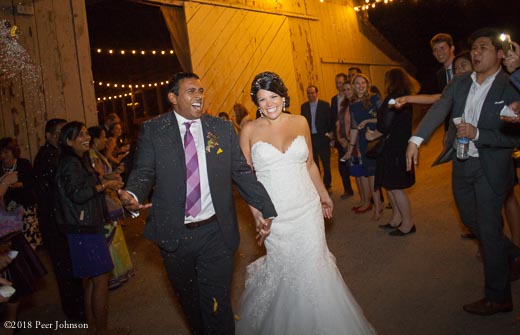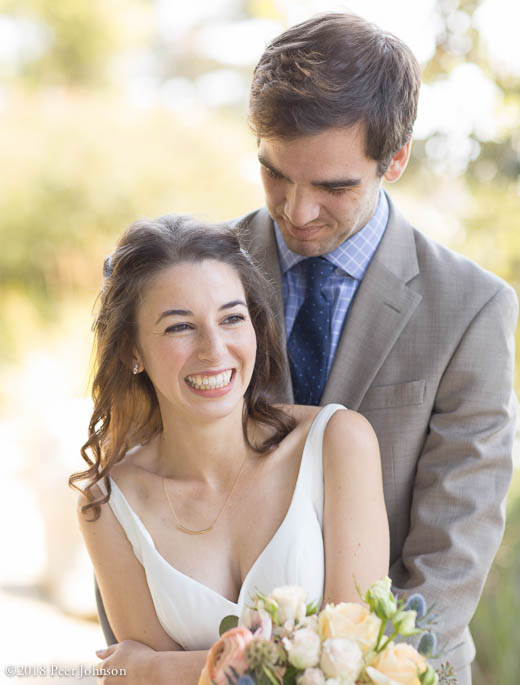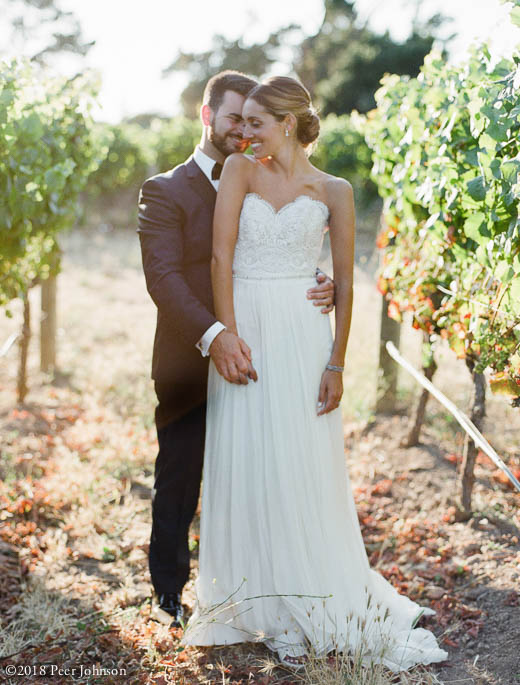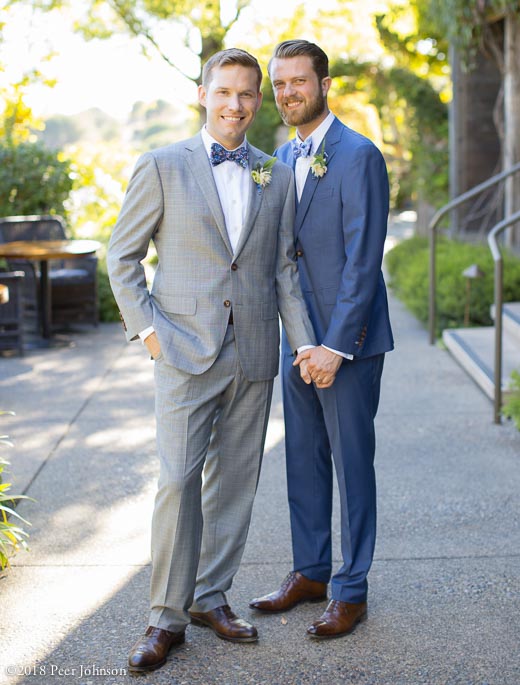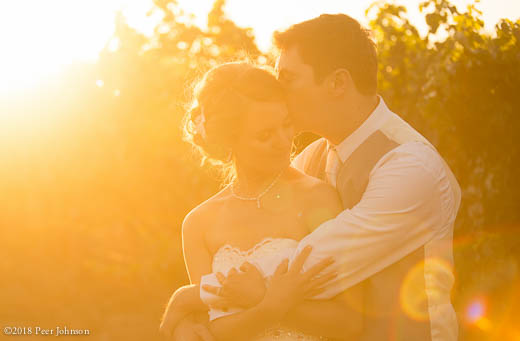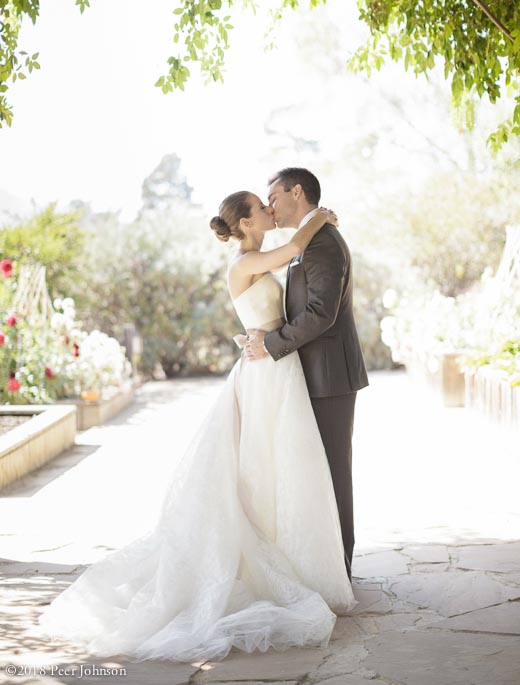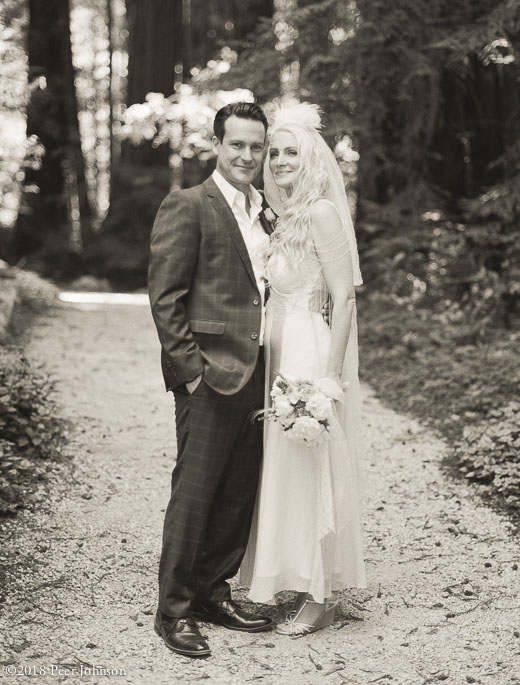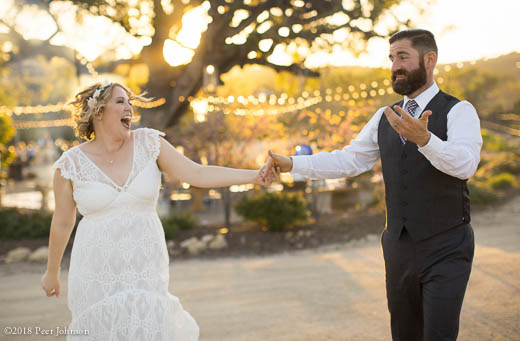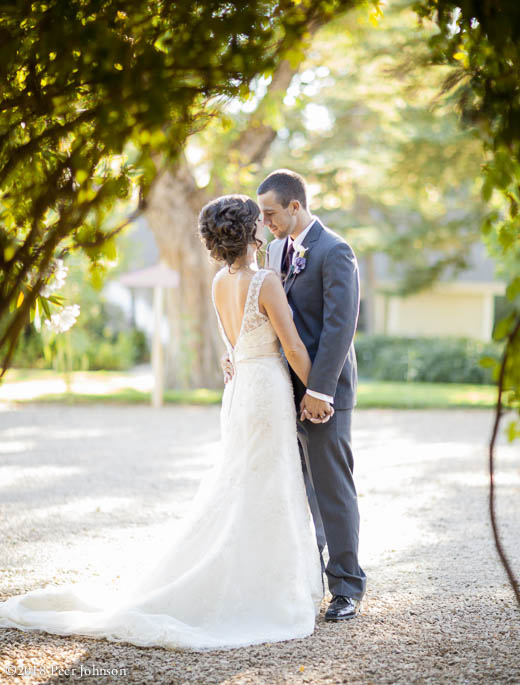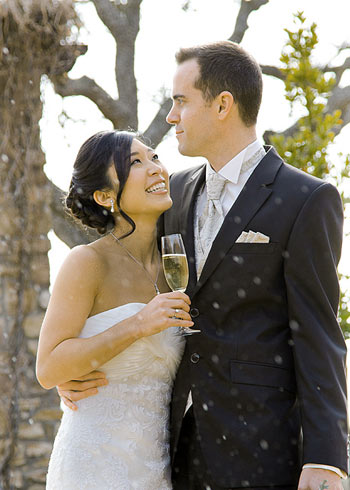 Wedding Photographer 4 Big Sur, Paso Robles & Cambria. Peer Johnson is a 6 Time "The Knot Best of Weddings 2017, 2016, 2015, 2014, 2013, 2012 & The Knot Hall of Fame." 6 years in a row. "Knot Best Of" is chosen from verified client reviews from recent brides. He has numerous 5 star ratings on The Knot, Wedding Wire, Project Wedding & The Martha Stewart Wedding Network. Wedding Photographer 4 Pismo Beach, Cambria, Big Sur, Paso Robles, Monterey, Carmel, Santa Barbara & beyond!
Peer Johnson is a Big Sur Wedding Photographer, Carmel Wedding Photographer, Paso Robles Wedding Photographer & Cambria Wedding Photographer. He regularly photographs Big Sur weddings at Point 16, Wind and Sea, Big Sur Bakery Restaurant, Ventana Inn and Spa, Deetjen's, Pfiefefer Beach Big Sur, Anderson Canyon & Paion. He regularly photographs wine country weddings at Paso Robles Wineries including; Cass Winery, HammerSky Vineyards, Silverhorse Winery, Thacher Winery, Vina Robles, Pear Valley Vineyards & Croad Vineyards as well as San Luis Obispo weddings at; Edna Valley Vineyards, Mission San Luis Obispo. Peer's favorite Cambria wedding venue's are; Robins Restaurant, The Cambria Pines Lodge, Fog's End & Moonstone Beach. He is a preferred vendor at Point 16, HammerSky Vineyards, Cass Winery, The Canary Hotel in Santa Barbara & is an accomplished Beach Wedding Photographer.
---